It's no secret that here at Cook's Science we appreciate a good deep dive—our recently published book is basically an homage to the practice. We spend a lot of our time digging in on certain topics, sometimes by accident, like when I recently responded to a question about substituting canned for frozen corn and ended up watching YouTube videos about the production of canned corn for hours. (They were surprisingly riveting.) Most of the time, though, our research is of the focused and intentional variety, and we thought it would be fun to do a series of deep dives into individual ingredients for Cook's Science. For these, we would develop a handful of recipes that focus on one ingredient but vary in cooking technique, flavor profile, and degree of difficulty. And the first ingredient to get the treatment? Eggplant. It's the friend zone vegetable—it's always there for us though we're probably not that excited to bring it home to meet the parents.
Eggplant has enjoyed an uptick in popularity that owes credit to chefs like Yotam Ottolenghi, Michael Solomonov, and Ana Sortun, who champion Mediterranean and Middle Eastern cuisines that prominently feature the vegetable. They have shown us that there is a world of eggplant possibilities beyond parmigiana, ratatouille, and moussaka. Even still, it's not a vegetable that gets people hot and bothered. I was met with a number of skeptical looks as I embarked on this project in the test kitchen. But I was undeterred. When it came to recipe development, I started by looking at the unique characteristics of eggplant and the most popular cooking techniques—and then I started asking questions. Could the absorbent sponginess of eggplant be used as a positive to soak up a flavorful fat rather than just the neutral frying oil? Could we develop a roasted eggplant dish that didn't have the texture of baby food? Could I improve on the tried and true salt-and-dry approach by imparting flavor to the eggplant during the drying process? I clearly had a lot of ground to cover, so I got to work.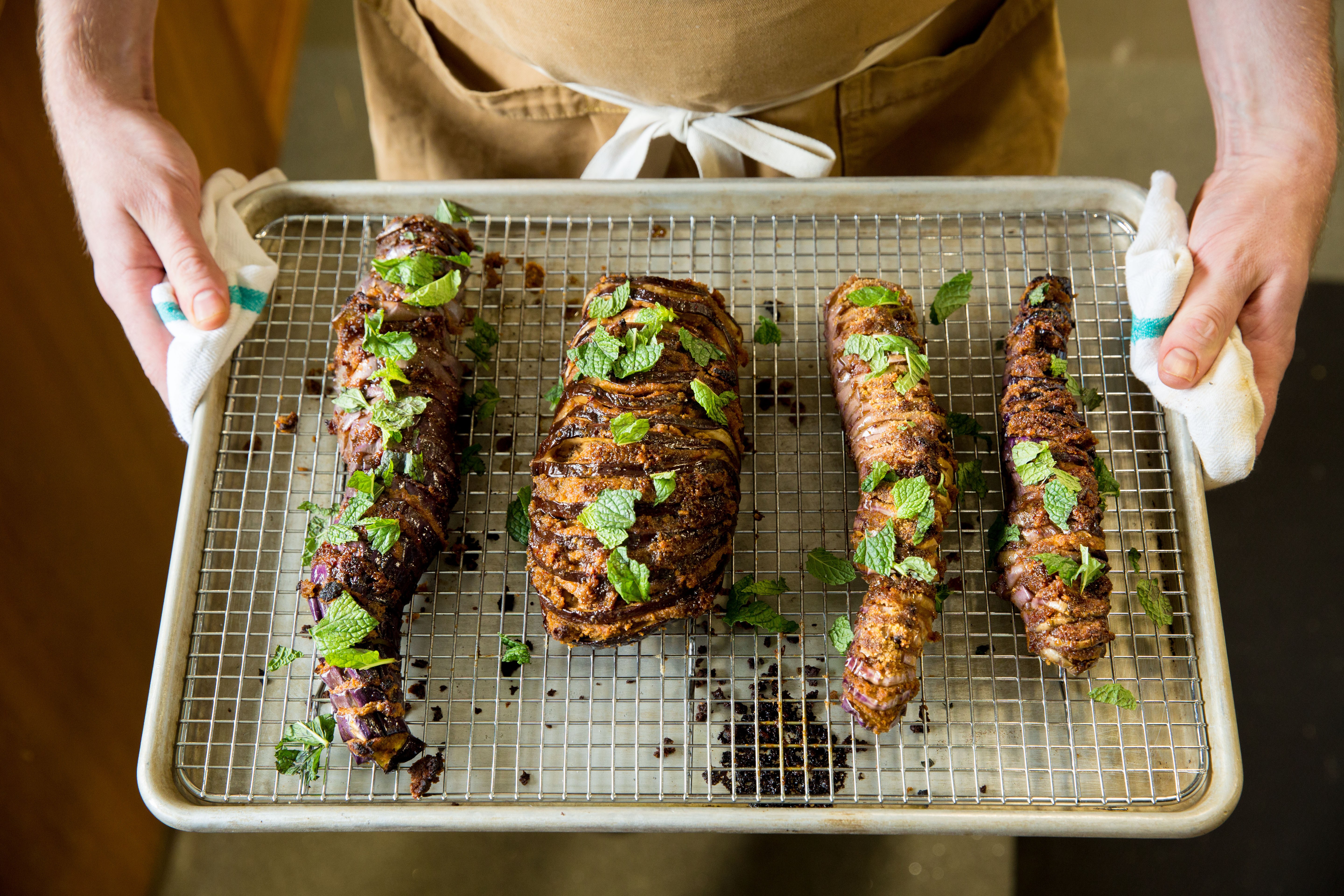 For the first recipe in our eggplant deep dive, I wanted to develop a whole roasted eggplant dish that offered a variety of textures—from creamy to crunchy. Because roasted whole eggplant contains a lot of air (which expands in a hot oven) and water (which turns to steam when heated), it has a tendency to burst and deflate. This is a big positive if you're making a puree like baba ghanoush, but that mushy texture is too monotone and Gerber-esque to stand alone as a dish. Enter the Hasselback eggplant. By making ¼-inch-thick slices crosswise down the length of the eggplant, stopping just short of slicing all the way through, I opened up a whole new world of eggplant possibilities. This setup allows steam to escape during cooking so the eggplant gets tender without bursting and turning to mush. Instead, it's crispy at the edges, soft and creamy at the center. More important, I could pack the spaces between the slices with superflavorful muhammara, a sweet and spicy Middle Eastern paste made from roasted peppers, walnuts, bread crumbs, and pomegranate molasses.
Our second eggplant recipe addresses the eggplant-as-sponge problem from a different angle. First, I borrowed a technique developed by our colleagues at Cook's Illustrated that takes the traditional salt-and-dry technique one step further by microwaving the eggplant on coffee filters to rapidly dehydrate it. That leaves us with eggplant that can be charred in a skillet (without it falling apart) to develop intense flavor. I then dress the charred eggplant in an equally intense Sichuan-inspired sauce, so it absorbs flavor, not just frying oil.
---
And we're back!
As promised, we're dropping Part 2 of our Eggplant Mixtape with two more recipes. So far we've given eggplant the charred and roasted treatments, and we're moving on to fried and smoked. The third recipe in our deep dive is a salad with crispy fried eggplant that is tossed with cherry tomatoes, a ton of herbs, and nam prik—a bright Thai condiment made with lime juice, fish sauce, rice vinegar, palm sugar, ginger, garlic, and chiles. We use the same microwave dehydrating method from our Charred Sichuan-Style Eggplant, before shallow-frying and marinating the eggplant. The fry-then-marinate approach (think Buffalo wings) allows the eggplant to soak up the nam prik and the juice from the tomatoes, while taking on a varied texture that is crispy-chewy on the edges and soft in the center. We (but especially our Managing Editor Kristin) can't get enough of this salad that will brighten up your dinner game, even in the dead of winter when we can't look at another beet salad.
OK, you've made it to the final boss of eggplant recipes, and it's time to show off your auber-genius. Our last entry in this series is the most labor-intensive and time-consuming recipe of the bunch, but we're confident that this Smoky Eggplant Miso Soup is worth the effort. I often take issue with the way in which eggplant flavor is described as "smoky," even when it hasn't been anywhere near smoke, a grill, or even an open flame. It's a catch-all generalization, like describing wines as merely "dry" or "oaky." That doesn't mean eggplant can't be smoky though, we just have to give it a hand, and smoldering wood chips. For this recipe, we smoke eggplant slices on the grill, and then dry them out in a low oven. That smoked eggplant is first used to make a vegetarian riff on dashi, the mother stock of Japanese cuisine, which is the base for the soup. It's then turned into a relish with some shitake mushrooms. The simplicity of this soothing dish belies its depth of flavor and technique used to achieve that result. Congratulations, Eggplant Master, you have earned your purple belt.
Photography by Steve Klise and Kevin White.