In this weekly series, associate editor Tim Chin and test cook Sasha Marx take you behind the scenes of Cook's Science and give you a glimpse into our recipe development process, from how we come up with recipe ideas, to test kitchen failures, to discoveries we make along the way. This week, Sasha heads back to (elementary) school. 
Last week our Cook's Science team had the opportunity to geek out with kids on the science of ice cream, through the Young Chefs program at the East Boston YMCA. The Young Chefs program, founded by Vayu Maini Rekdal and Emily Pence in 2011, uses hands-on activities to empower students with both culinary skills and science knowledge, while supporting healthy eating habits. (Side note: Why didn't Young Chefs exist when I was in grade school?) The program's activities range from exploring acids and bases through pickle-making, to learning about diffusion by marinating tofu, to studying density via smoothies. Needless to say, this stuff is right up our nerdy Cook's Science alley. So when Alexis Daniels, who coordinates the program for the East Boston YMCA, asked if we would be interested in sharing some of our ice cream knowledge with her students, we jumped at the opportunity. After all we have two graduates of the Penn State Ice Cream Short Course on our team. Ice cream is kind of our thing.
Alexis informed us that the students would be learning about states of matter and phase changes through the lens of ice cream, which they would also be making themselves in a classroom experiment. We offered to bring some of our own Cook's Science ice cream for the kids to try in a blind side-by-side tasting, just the way we do at America's Test Kitchen. What flavors did we decide to bring to the party? The most obvious choice was Vanilla Bean, since the kids would be making their own vanilla ice cream. We thought our recipe would make for an interesting comparison in regards to flavor as well as texture, and we could talk about how different ice cream-making procedures create different results. We also decided to bring our Seaweed Ice Cream, because, well, we thought it would elicit some awesome reactions during the tasting. Our managing editor Kristin whipped up the ice cream bases in our test kitchen, and had the great idea of only churning one of the them (seaweed) into finished ice cream ahead of time, so that we could bring the vanilla bean base and an ice cream machine to the classroom and show the students how the churning process works, in a tasty demonstration.
Stocked with our ice cream, an ice cream machine, a detailed lesson plan (again, thanks to our master planner Kristin, who happens to have a background in STEM education), and some tasting note sheets, Dan and I made our way to the program site: the colorful art room in an East Boston elementary school. After we set up our equipment, the students tumbled in, full of energy and excitement. The class included ten children, all in 4th and 5th grade. Right off the bat I was impressed with their keen interest in food (not just ice cream!), as they peppered us with questions (once Dan was able to convince them that "ice cream college" is a real thing, they had a lot of follow-up queries). We briefly introduced ourselves and gave our ice cream credentials, before firing up the ice cream machine and explaining our plan for the side-by-side tasting at the end of the class.
After spending a few minutes discussing what they already knew about how ice cream is made, and whether it's a solid or a liquid, the kids broke into small groups and each set out to make a batch of their own ice cream. With recipe in hand, they took to measuring and combining the ingredients for vanilla ice cream in a plastic zipper-lock bag, which was then placed in a larger zipper-lock bag filled with ice and salt (the salt lowers the freezing point of water, allowing the bag of melting ice to reach temperatures below 32 degrees F/0 degrees C). The students then took turns squeezing—or massaging, punching, shaking, and karate chopping—their bags until the base froze into ice cream. (Double-bagging both the base and the ice/salt mixture was key!) Dan and I bounced between groups, giving advice and asking questions of our own. Once their ice cream was ready we began setting up our tasting, while Alexis gave a demonstration in melting chocolate (another phase change) for a sweet garnish.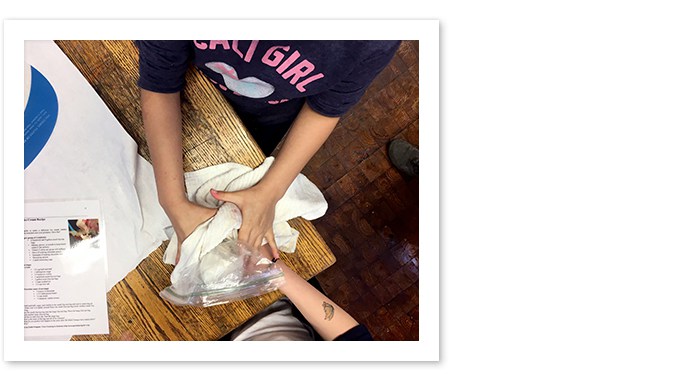 The tasting was the star of the show. We had the students first try their own ice cream (as it became clear it would melt pretty quickly), followed by our vanilla bean recipe. When I started churning ice cream earlier in the class, I asked the kids to guess the flavor. The specks of vanilla bean had elicited a lot of cookies and cream theories, but as soon as they tasted it, the students latched onto the vanilla flavor, and two girls were able to identify it exactly as vanilla bean. The tasting notes that they wrote down were amazing (see photo at top of page). Dan and I loved that our vanilla bean recipe was validated as being "lit" by several students, even if it made us feel really old and uncool. Suffice to say, the seaweed ice cream did not receive the same response. I couldn't hold back laughing as kids bolted around the room, grimacing and yelling in disgust. "It tastes like the ocean!" "It's like eating sushi!" We hadn't told them anything about the flavor, and I couldn't believe they were able to immediately pin it down. Their palates were impressive. I guess kids are eating a lot more sushi than I did at their age.
Tasting reactions aside, it was great to see kids being enthusiastic and curious about food, science, and cooking. We hope that what they're learning through the Young Chefs program inspires them to keep things lit in the kitchen and in the classroom.
(Editor's Note: Many thanks to Alexis Daniels and the rest of the staff at the East Boston YMCA afterschool program for having us visit—we had a fantastic time! And we'd like to give a special shoutout to our colleague from the America's Test Kitchen book team, Afton Cyrus, who not only first introduced us to Alexis, but also joined us in the classroom as a volunteer!)
Photography by Steve Klise