In this weekly series, associate editor Tim Chin and test cook Sasha Marx take you behind the scenes of Cook's Science and give you a glimpse into our recipe development process, from how we come up with recipe ideas, to test kitchen failures, to discoveries we make along the way. This week, Sasha spills why May is the craziest month in the test kitchen. 
"May is crazy, just you wait and see." Over the past few weeks I heard these ominous words on a daily basis from every test cook and editor at America's Test Kitchen. Why do the Ides of May carry such Shakespearean foreshadowing here at ATK? Well, that is when we film the America's Test Kitchen television show. The set for the show is the same test kitchen where Tim and I develop our recipes for Cook's Science. And if space was at a premium on a regular workday in the test kitchen, it only becomes more elusive when we need to accommodate the camera and lighting equipment as well as the television crew operating said equipment.
Our all-star Kitchen Operations team began preparations for TV madness in April when they moved all of the bulk dry storage ingredients from the storage room adjacent to the kitchen up to a hallway on the second floor of our building. "Why did all of that have to move?" I recently asked our executive editor Dan, who is also a cast member of the television show. He explained that our dry storage room is called the "Control Room" because, during filming, that is where the production team (director, producers, etc.) sets up shop as the Man Behind the Curtain, with blacked-out windows, banks of TV monitors, sound boards, and walkie-talkie headsets to give instructions to the cast and crew on-set.
Those of us test cooks who have refrigerated and dry storage spots in the main test kitchen also had to clear out those spaces and relocate our ingredients to satellite storage spots that have come to populate every available inch of space in the building. The ingredients you need for your recipe might be in one of our photo studios (one of which doubles as the hair and makeup station during filming). Or, maybe they're in the cookbook library, next to the technical reference section. Not there? Have you checked that random hallway on the 4th floor that we're using as a bootleg photo studio for our recipe photo shoot this week? If you still haven't had any luck, you might be associate editor Tim Chin, in which case you'll find the ingredients you're looking for at your desk, or under it. This May, the test cooks of America's Test Kitchen are giving new meaning to the concept of urban foraging.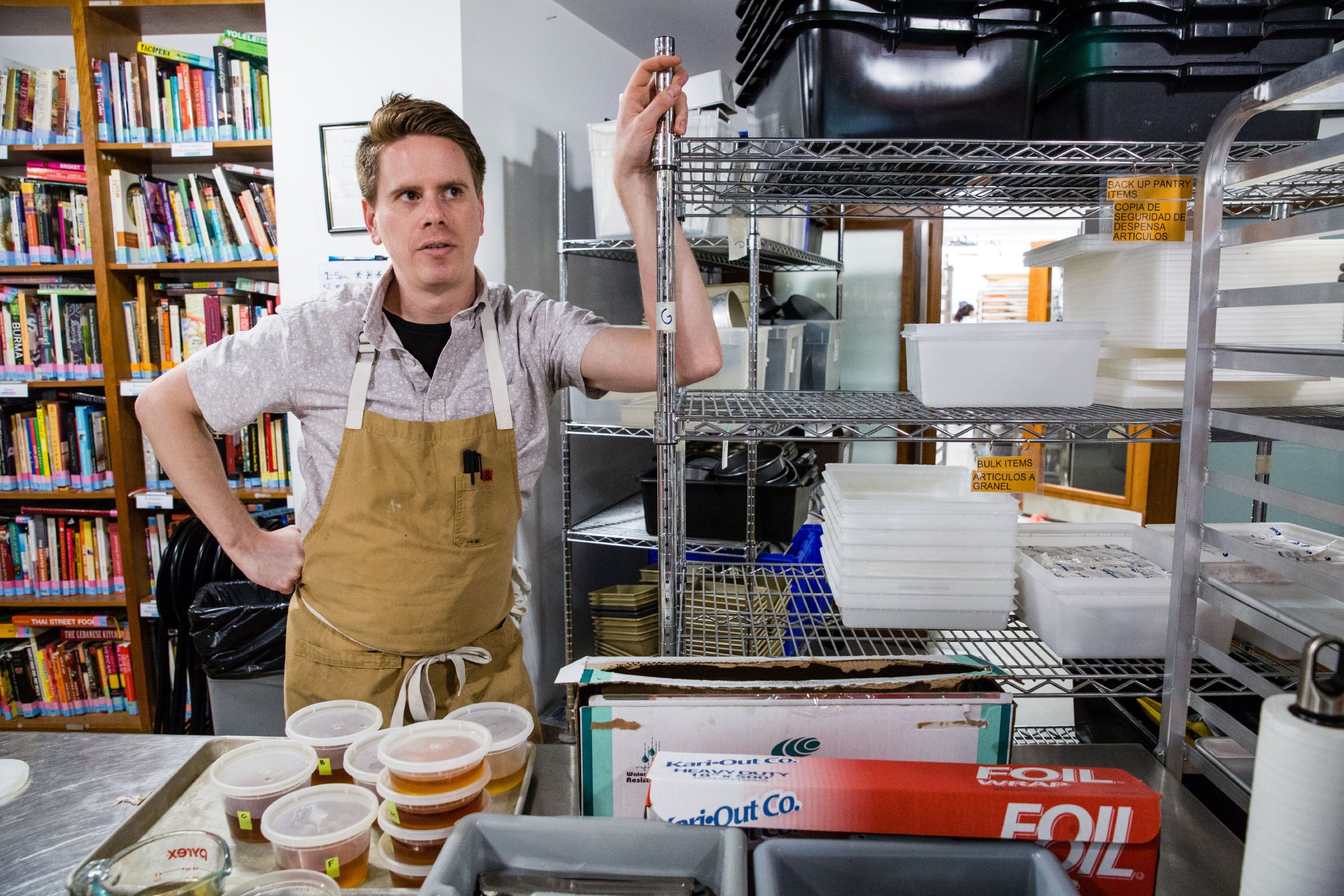 So what does all this shuffling mean for our day-to-day work? Well, it makes things a little tricky for recipe development. Those who have seen episodes of the America's Test Kitchen show may have noticed the chef coat-clad cooks working in the background. Those are real test cooks (not extras) working on real recipe development projects. We can sign up for time slots to use those workstations in the large test kitchen during filming, but with only eight available stations and over 30 test cooks at the company, those spots are in high demand. And even if you are lucky enough to snag one of those eight spots, they come with some ground rules such as no loud cooking projects (test cooks should be seen but not heard), and a mandatory white chef coat dress code (as my Behind the Scenes photos suggest, I'm not a fan). Long story short: I'm steering clear of that. Normally I would try my luck in finding room to work in our smaller kitchen, adjacent to the main space, but during TV month it's packed by a team of test cooks responsible for prepping ingredients and backups (just in case) for the recipes being filmed on-set.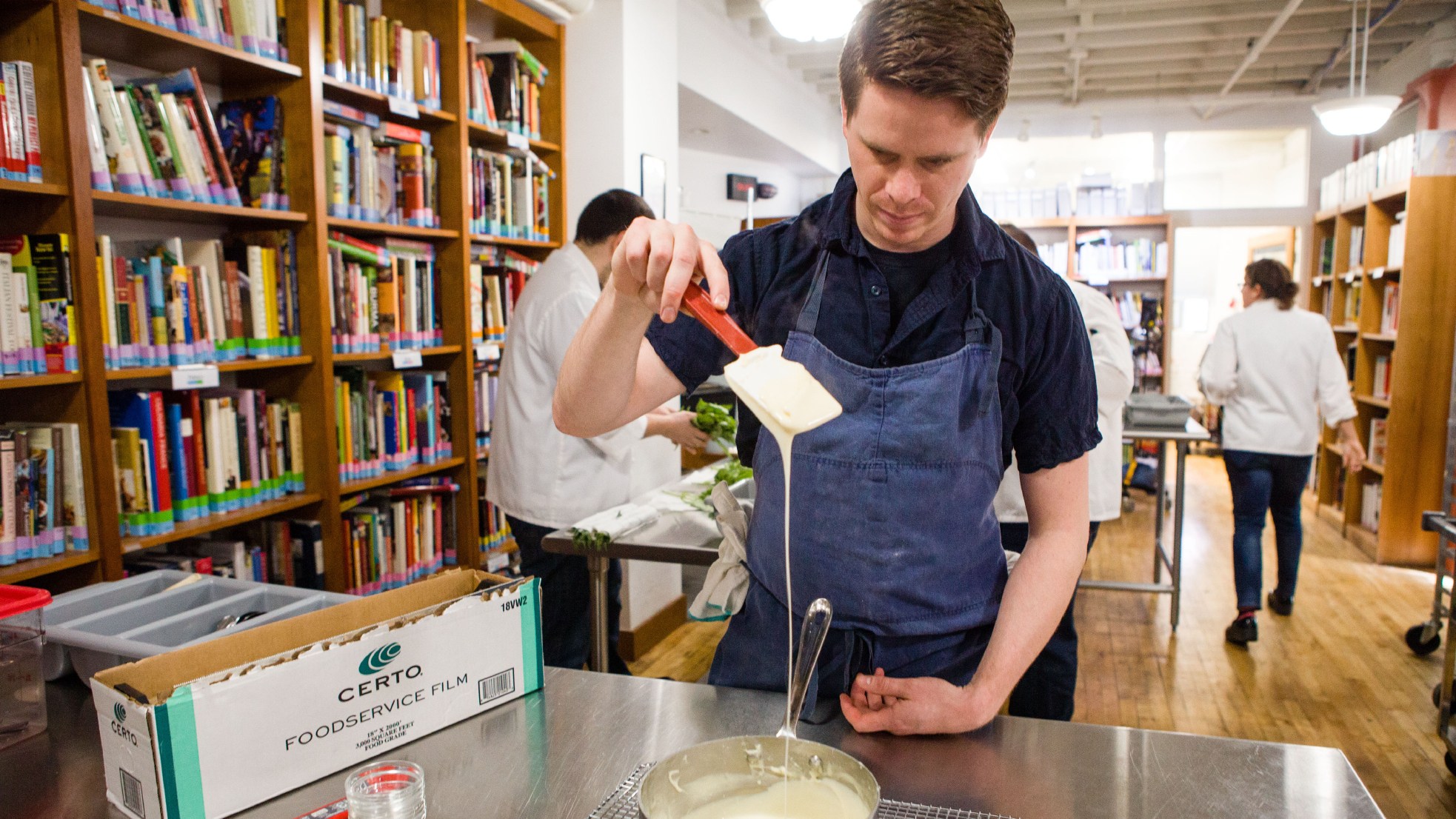 With no kitchen real estate available, I've been setting up a guerrilla workstation in our cookbook library, a space usually reserved exclusively for team recipe tastings. During May Madness, the metal prep tables in the library, normally spaced out and used for tastings as well as receiving and sorting daily grocery deliveries, are clustered together to make room for shelves of relocated cooking equipment and more dry goods. The tastings and grocery sorting still happen in this space, and on top of that test cooks jockey for room to work on their recipes. Space is tight and this is when all of the organizational habits that Tim and I have been advocating for come into play.
I've done my best to set up shop in a far corner of the library, which has led to some teasing from our managing editor Kristin who claims that I look like a survivalist cooking in a fallout shelter (my counter-point is that in that scenario I would at least have some peace and quiet). I've outfitted my workspace with a small induction burner (which looks like a college dorm room hot plate), a large bain marie for food scraps and trash, and the bare equipment essentials for recipe development. Speaking of recipe development, I planned ahead and the recipes I am currently developing involve little to no cooking, and a good amount of booze (stay tuned). I guess I've adopted that survivalist mentality in the process.
So far, May has been as challenging and crazy as advertised (Dan's and my body language in the header photo for this post say it all), but I'm doing my best to embrace the insanity. I feel lucky to have experienced this last go-around of May-hem, as we will be moving to our new digs in the fall where a dedicated TV set will exist, separate from the working test kitchen. This way I'll be able to join in when it's time to regale new hires with stories of "back in the old days," when we developed recipes uphill in the snow both ways. It has also been really nice to have the opportunity to watch the show get made from behind the scenes, a process which has been both entertaining and informative. I've enjoyed taking time to sit in the Control Room while Tim and Dan film their TV recipe segments as cast members of the show. Giving them a hard time about their TV-mandated manicures, hair-styling and makeup has been fun, too.
Photography by Steve Klise and Kevin White.