This is Sasha's week to share on Cook's Science: Behind the Scenes. He's a little "in the weeds" with his recipe development for our upcoming story on farming and cooking seaweed (live on the site in late February), so Managing Editor Kristin Sargianis went down to the test kitchen to ask Sasha a few questions about his current workload:
Kristin Sargianis: [Over the noise of the stand mixer whirring. . . ] Hey Sasha, what are you working on?
Sasha Marx: [Doesn't look up from the mixer. . . ] Hey. I am working on a seaweed pasta dough made with nori and also currently curing some tuna in seaweed for a poke dish.
KS: How's it coming along?
SM: It's coming. We did tastings of different permutations of the seaweed-cured tuna and settled on a version we all liked in terms of flavor and texture. Now I have to build the rest of the poke dish itself—all the other components. For the pasta, in the first test I only had a small amount of nori in the dough and we couldn't taste it enough. In the version I'm working on right now I significantly increased the amount of nori and I think the flavor and texture are pretty awesome. I want to test and find the maximum amount of nori we can incorporate into the dough without sacrificing the texture of the pasta.
KS: When we first started talking about the seaweed story, you were quick to volunteer to develop the recipes. What got you excited about cooking with seaweed?
SM: I've been able to work with seaweed in restaurants and I've always enjoyed it as an ingredient. It brings a lot of interesting flavor and textures to food. It's fun to work with, really tasty, though it might be somewhat daunting for home cooks. . . the idea of working with seaweed beyond the seaweed salad that you get at a typical sushi restaurant. I was excited about the opportunity to develop some recipes that show off the versatility of seaweed.
KS: Last week we went to visit Walrus and Carpenter Oysters' seaweed farm in Rhode Island. What was something interesting you learned on our trip?
SM: I didn't know that seaweed is a winter crop and how quickly it grows—I was amazed that sugar kelp can grow several inches per day.
KS: What was your favorite part of the trip?
SM: The best part was meeting the whole Walrus and Carpenter team and going out on the water with them and seeing how their farming setup works. We had talked with them briefly on the phone the week before and Jules, the founder and owner, had walked us through their operation, but going out on the water and seeing how the seaweed grows, where their operation is, getting a sense of how the seaweed growing cycle fits with the oyster growing cycle and harvest, that was the best part. Getting a first-hand look at farms is something that I was able to do at a number of restaurants that I worked at in the past, and it's always an exciting learning experience.
KS: Did you have a least favorite part?  
SM: I don't really know if I have a least favorite part. It did start to snow pretty heavily during the end of our trip. It was a little chilly on the water, but it felt appropriate for New England seafaring.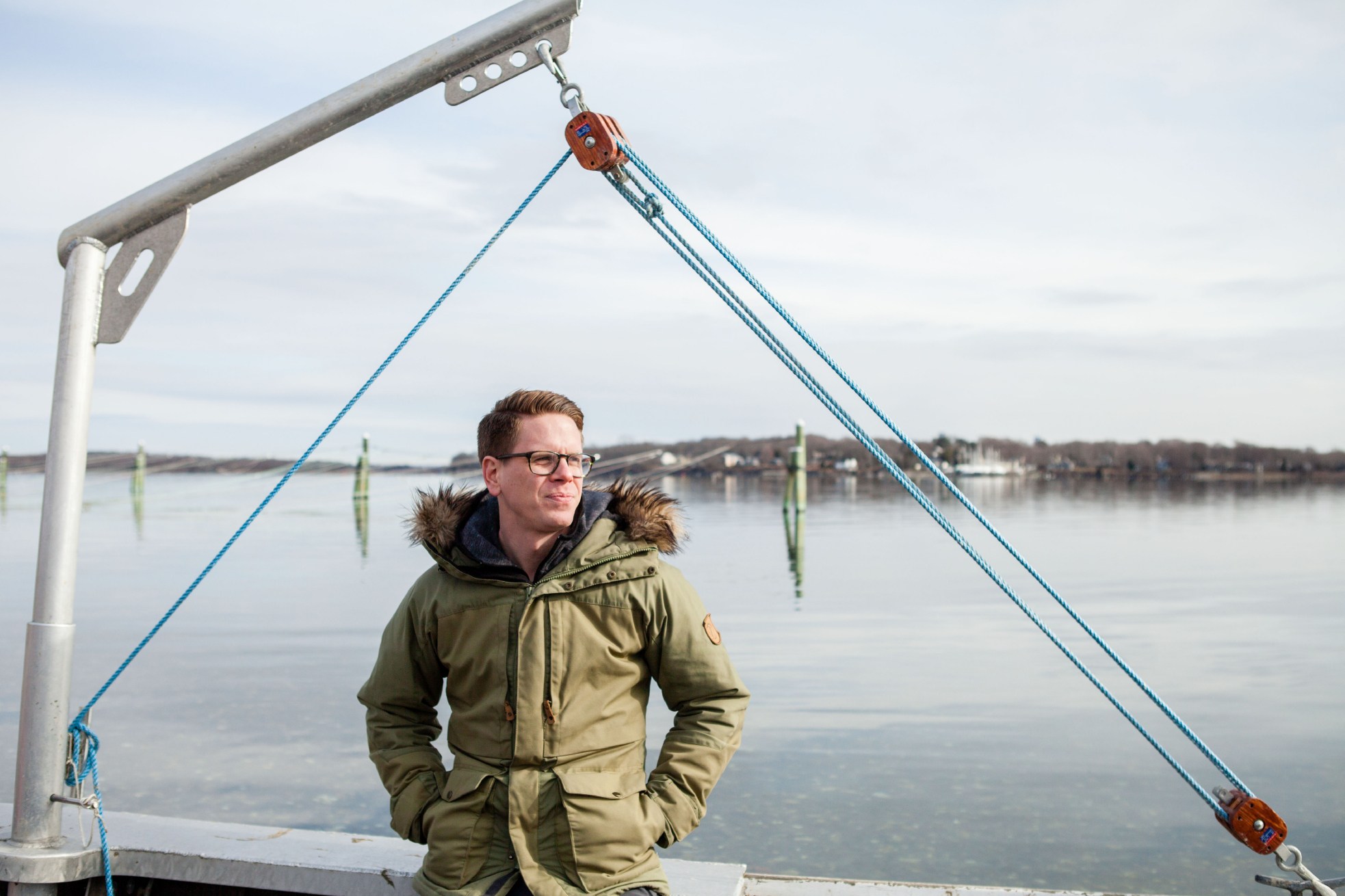 [Sasha walks away to crack eggs into a bowl for his pasta. I bide my time watching a test kitchen intern stir a pot of vegetables that contains the largest bay leaf I've ever seen. Seriously—it's probably half the size of my palm. Sasha returns with cracked eggs.]
KS: [As Sasha adds an egg to the still-going stand mixer. . . ] Let's switch gears and talk about the recipe you just finished working on.
SM: Procrastination Valentine's Day! [Editor's Note: Check out Cook's Science on Monday, February 13th for all of your last-minute Valentine's Day dessert needs.]
KS: What was your inspiration for that recipe?
SM: My inspiration was my own personal procrastinating experience when it comes to major holidays and food-related events. Originally, we had wanted to do a Cook's Science procrastination Thanksgiving, but I did my best Daniel Day Lewis method acting on that and procrastinated until it was too late to develop a recipe. Then, when I saw Valentine's Day coming up, something I've personally procrastinated on in the past, I thought we could try again. There's tons of resources out there for the Valentine's Day planners, but there's nothing out there for those of us who aren't planners at all.
KS: So, do you have any Valentine's Day plans?
SM: Um…not yet. Again, in character. But I will. Hopefully my girlfriend doesn't read this. There will be something. [Editor's Note: This interview was conducted on Tuesday, February 7th. Sasha might have made plans by now.]
KS: Changing the subject. What did you eat for breakfast today?

SM: For breakfast I actually had half of a delicious Italian sub. For the Super Bowl I had ordered a bunch of subs from Monica's Mercato in the North End [Editor's Note: the North End is Boston's Italian neighborhood]. I had one left over and I was trying to hold off and eat it at lunch, but I ate it at eight in the morning. Maybe not the most classic breakfast food, but it was pretty delicious.
KS: Now we're going to play a word association game. I'm going to say a word and you need to say the first thing that comes to mind. Ready?
SM: Sure.
KS: Super Bowl.
SM: Pats!
KS: Seaweed.
SM: Mmmmm. . . I think I should be going faster than this. Uhhh. . . umami.
KS: Valentine's Day.
SM: Panic.
KS: Test Cook.
SM: Weeded.
KS: What?
SM: "Weeded", as in "in the weeds" because I need to get these recipes done, but you said I could only use one word.
KS: Last question. When will this pasta be ready for tasting?
SM: This pasta? Probably in an hour or so. Dough needs to come together and rest before I roll it out.