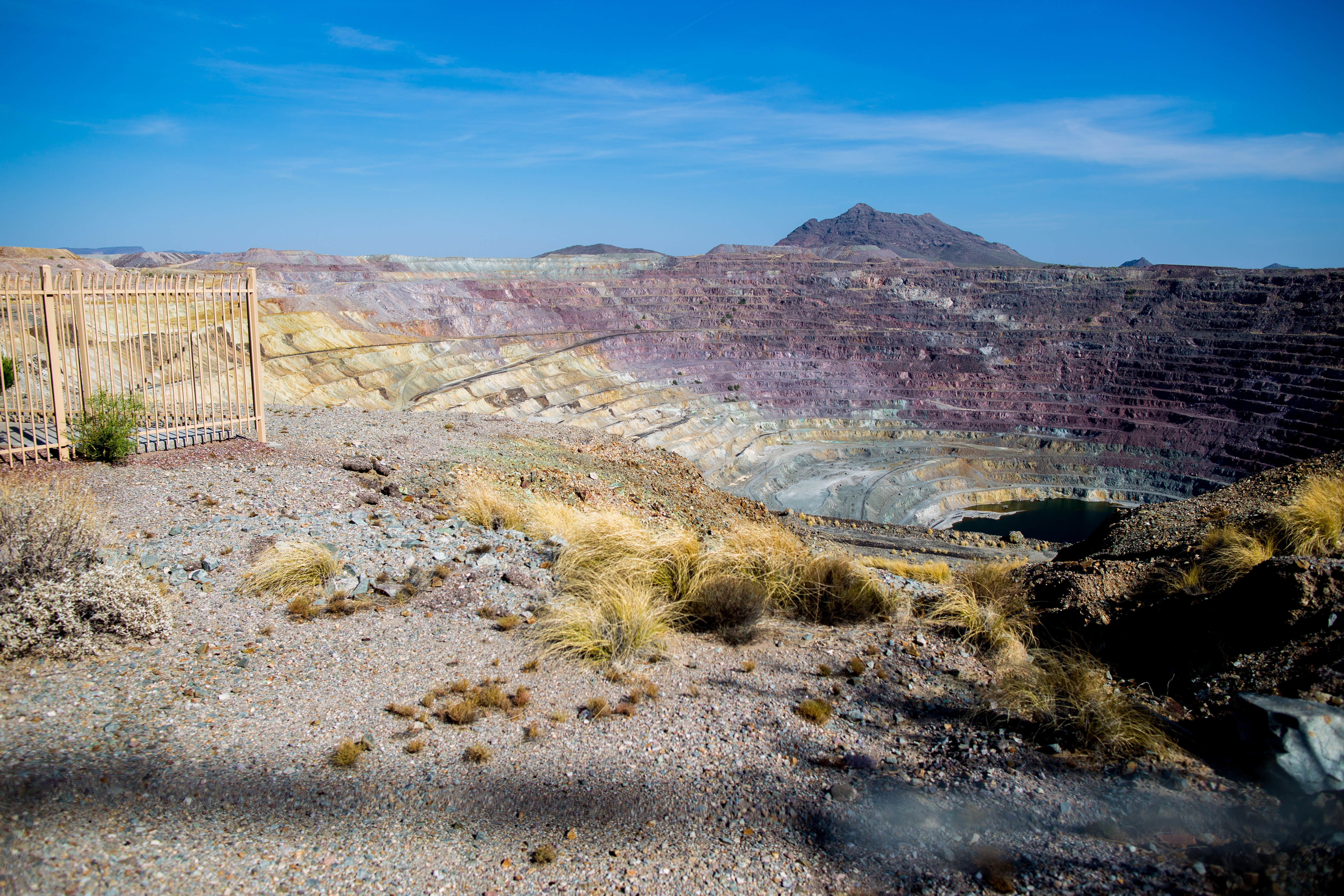 AJO, ARIZONA
Days before the start of the summer monsoons, my truck rumbles through the Border Patrol checkpoint and the Tohono O'odham Nation town of Sells, Arizona. Out the window are scenes from the Sonoran Desert—long stretches of cholla cactus, the occasional white prickly poppy, a dead coyote on the road. While the landscape may not evoke thoughts of agriculture, this desert is filled with surprises.
The land that is now southern Arizona has been continuously farmed for more than 4,000 years—longer than any other place in North America. It is a history that helped to earn Tucson a UNESCO World City of Gastronomy designation this past year. Traditionally, the Tohono O'odham and their ancestors, the Hohokam, practiced dryland farming, shaping the land to catch monsoon rains, and grew crops that matured quickly and thrived in the desert heat. I'm headed to the town of Ajo—population 4,000 and two hours' drive from any major city center—to talk with Nina Sajovec, director of the Ajo Center for Sustainable Agriculture.
Sajovec and I meet in town, near the glaring scar of the New Cornelia copper mine—an open pit, more than 1,000 feet deep and 1.5 miles across. The mine closed in the 1980s, due to plummeting copper prices and union worker disputes, leaving a depressed community in its wake.
Sajovec moved from Slovenia, where she grew up, to Arizona in 2007 for a masters and Ph.D. program in cultural anthropology. She immediately found herself in an unfamiliar landscape. The cactus and dust replaced the green forests and black soil of her homeland.
As a child, Sajovec would hide beneath the kitchen table at her home in Slovenia, listening as her parents, community healers, prescribed herbal remedies to friends and neighbors—experiences that formed the foundation of her understanding of the relationship between plants and people. She remembers the sensory details—the sound of paper bags rumpling, the clink of tincture bottles, feet shuffling, a neighbor sobbing at the table, the smell of herbs drying and beans cooking on the stove.
While doing research, Sajovec visited Ajo. The isolated town seemed an unlikely place for a Slovene academic to put down roots, but Sajovec says she fell in love during that first visit. When she walked into the local houses, she smelled beans cooking on the stove. "It smelled like home," she said.
After moving to Ajo, Sajovec began walking the desert with anyone willing to teach her about its ecology, culture, and history. She spent four years working on the Tohono O'odham Indian Reservation, apprenticing with farmers who were growing desert-adapted traditional crops, including 60-day corn, Tohono O'odham squash, and small oval-shaped tepary beans.
"If there's a plant and a food that most represents the people and the terrain of this place, it's the tepary bean," says Sajovec. "It's the marker of the resilience of the desert people."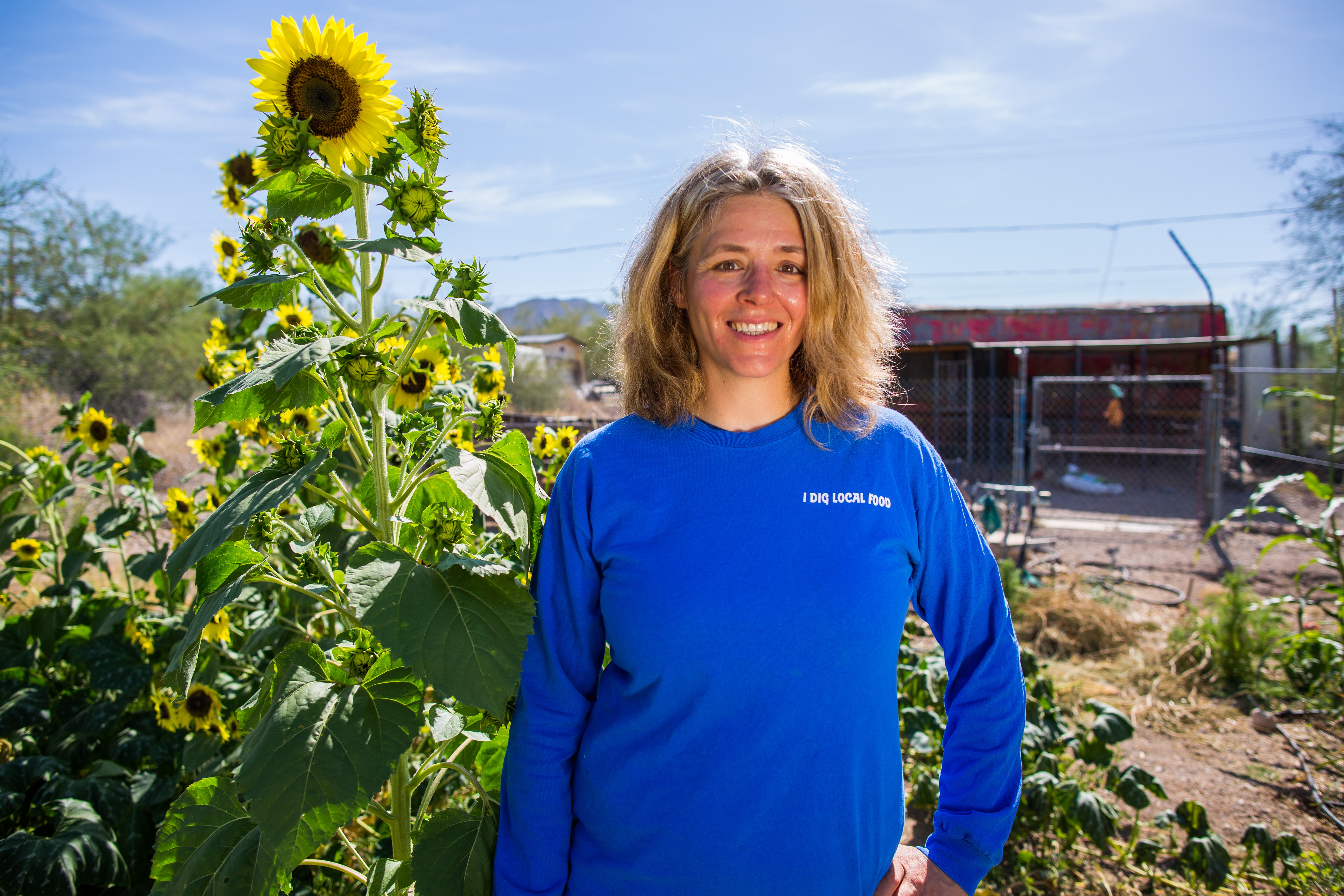 THE RESILIENT TEPARY BEAN
The tepary bean is indeed one of the most heat- and drought-tolerant crops in the world. It thrives on sporadic monsoon watering (which takes place between July and September, typically and provides Arizona with half of its annual precipitation) and can germinate with a single rainfall. It grows and forms pods quickly and tolerates the high temperatures and intense summer sun of the Sonoran Desert, even folding its leaves during the day to minimize damage from sun exposure.
The wild ancestors of the tepary bean grew on mountainsides and in flood corridors, benefiting from the minerals deposited in the soil left over after rain.
Around the world, scientists and farmers see great potential in the tiny tepary bean. "The tepary species contains a remarkable diversity," says Jimmy Burridge, project manager for the USAID Feed the Future Innovation Lab for Climate-Resilient Beans "presenting breeders with the opportunity to cross lines and find or generate new lines that have the ability to respond to stressful environments and maintain production."
Burridge has personally evaluated 120 types of tepary beans, both wild and domesticated, studying how they acquire water so efficiently. His colleague, Tim Porch, who leads the tepary research for the United States Department of Agriculture Agricultural Research Service, has collected more than 400 unique varieties of tepary bean—primarily from the southwestern United States and Costa Rica.
In a recent scientific paper, Porch and his co-authors speculate that the tepary bean "could play an increasingly important role" in environmental conditions such as heat or drought that cause reduced yield and growth in plants. "With a changing climate resulting in larger areas under excessive levels of heat and drought stress . . . crops with exceptional tolerance to abiotic stress, such as the tepary bean, could be a solution to sustainable food production."
The tepary's flexibility to environmental conditions makes the species more resilient than common beans. "If it rains, the tepary will have more vegetative growth and produce higher yields over longer periods of time," Burridge explains. "But if the weather turns hot and dry, it will accelerate maturation and still produce good yields in a short period of time."
Tepary beans' diverse survival strategies let them thrive across a spectrum of terrains. Some varieties have adapted to lowlands and others to mountainsides. In regions where drought is particularly strong and the rainy season short, the tepary bean has evolved to grow and reproduce quickly before the water supply runs out—a survival strategy termed drought escape. And in addition to heat tolerance, certain varieties have developed cold tolerance, a trait currently being studied by scientists in Canada.
Because beans are an important food source for millions of people around the world, and in general, most bean varieties are highly sensitive to heat, the heat-resistant tepary beans are of interest to scientists internationally. The International Center for Tropical Agriculture (also called CIAT) has been researching "elite" beans, or beans that can thrive in higher temperatures. According to their analysis of 19 different global climate models, the area suitable for bean production will have shrunk by 50 percent by 2050. CIAT is working to crossbreed beans like teparies with common variants like pintos and kidneys.
"In some parts of Africa and Latin America, farmers adopting the heat beaters will actually be able to expand production on land where it's normally too hot for beans," Andy Jarvis, a climate change expert and director of CIAT's Decision and Policy Analysis Research Area, said on CIAT's website.
But while the tepary bean species provides an exciting potential for future food production, Burridge says, "it's not a silver bullet solution." He further explains: "There's a whole world of beans out there, and the challenge is to find the set of traits that are appropriate for an agroecosystem. We need to find resiliency through diversity."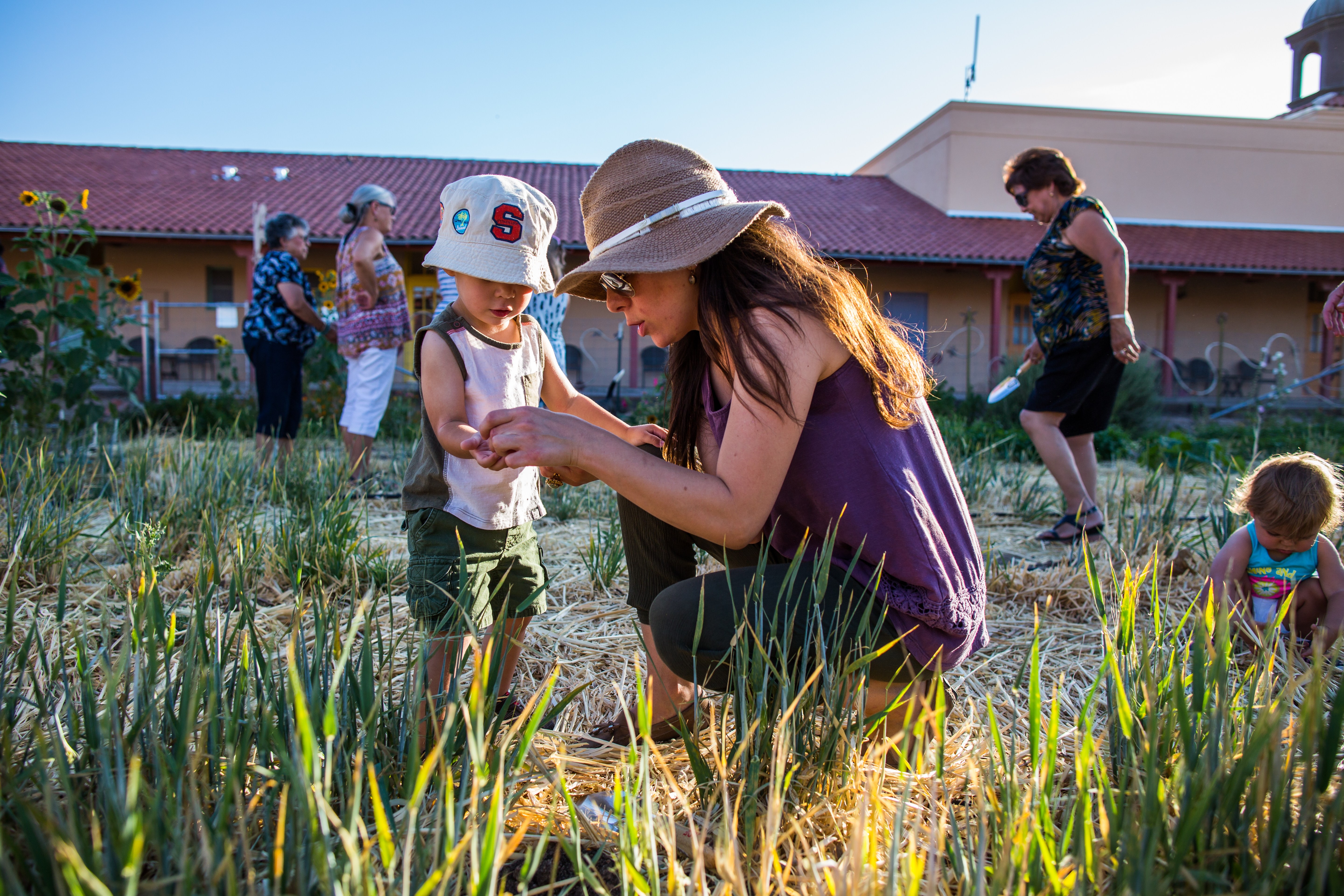 PLANTING TIME
Heat wavers over the asphalt as Sajovec directs our truck through the quiet streets of Ajo. We park outside the entrance of an abandoned school that she has helped turn into an urban farm. What once was a blacktop courtyard is now a series of lush gardens filled with towering okra, crawling squash plants, and an orchard of heritage pomegranate trees. Families wander the rows, pulling weeds and clearing the ground for tepary bean planting.
Sajovec has become a force behind the revival of a local Ajo food system. In addition to the urban farm, Sajovec, her partner, Sterling Johnson, and other organizers have spearheaded a weekly farmers' market and developed two quarter-acre dryland fields outside of town, where traditional crops are grown using only rainwater. Whereas in 2008, there were only two home gardeners growing food in the entire town, today there are more than 100 gardener members of Sajovec's nonprofit Ajo Center for Sustainable Agriculture. And this summer, they launched the Adopt a Sonoran Desert Crop program, working with various community groups to plant, harvest, prepare, and save seeds from Sonoran desert crops such as tepary beans, 60-day corn, Bisbee Red cow peas, yellow watermelon, sorghum, amaranth, and Magdalena Big Cheese squash, among others.
For Sajovec, the tepary bean's ability to thrive in the harsh conditions of the desert is a strong metaphor for community resilience and food security. "What does it mean to be able to eat something that thrives in the heat of the summer when everything else dies?" she asks. "I can imagine the tepary bean absorbing all the heat and translating it into the people who eat it."
Nutritionally, tepary beans contain more protein and fiber than European-introduced beans such as pintos, which are often provided through government food programs. And tepary beans are also low on the glycemic index, naturally helping to regulate blood sugar. Though global in scope, the diabetes rate has skyrocketed among the Tohono O'odham since the 1960s and is now one of the highest in the world—arguably a direct result of the introduction of processed foods and a decline in access to traditional food sources.
Among the Tohono O'odham, tepary beans were traditionally planted and harvested communally. After the harvest, beans would be divided up among households, ensuring that each family had a supply. The two main O'odham varieties, known as brown or white among tribal members, are used in soups, stews, as spreads and dips, or to replace dried common beans in virtually any other recipe. The brown beans are small and hearty, with a rich and earthy flavor, while the white tepary beans are smooth and creamy when cooked, with a light sweetness. (Read to the bottom to check out the Cook's Science recipes for White Bean Hummus with Herb and Olive Salad and Greek-Style Bean Soup.)
The sky turns hazy pink as the sun sets over the roof of the school. Volunteers of all ages gather in the garden near a stand of bowing sunflowers. Sajovec pours a pile of tepary beans into her hand from a jar and holds it out to the group. "Touch them, hold them. Go ahead and smell them," she encourages. An elderly woman takes a single brown bean and inspects it closely. A young girl helps a toddler raise a handful of beans to his nose to inhale their musty, earthy odor.
People scatter across the garden, laughing and talking, making holes for the tepary beans and covering them with soil. In the waning light, Johnson, a Tohono O'odham tribal member, explains that in traditional folklore, the white tepary beans represent the stars in the night sky. He describes a Milky Way made of tepary beans, a reminder that we are watched over, that there are resources right at our feet in the form of seeds and soil.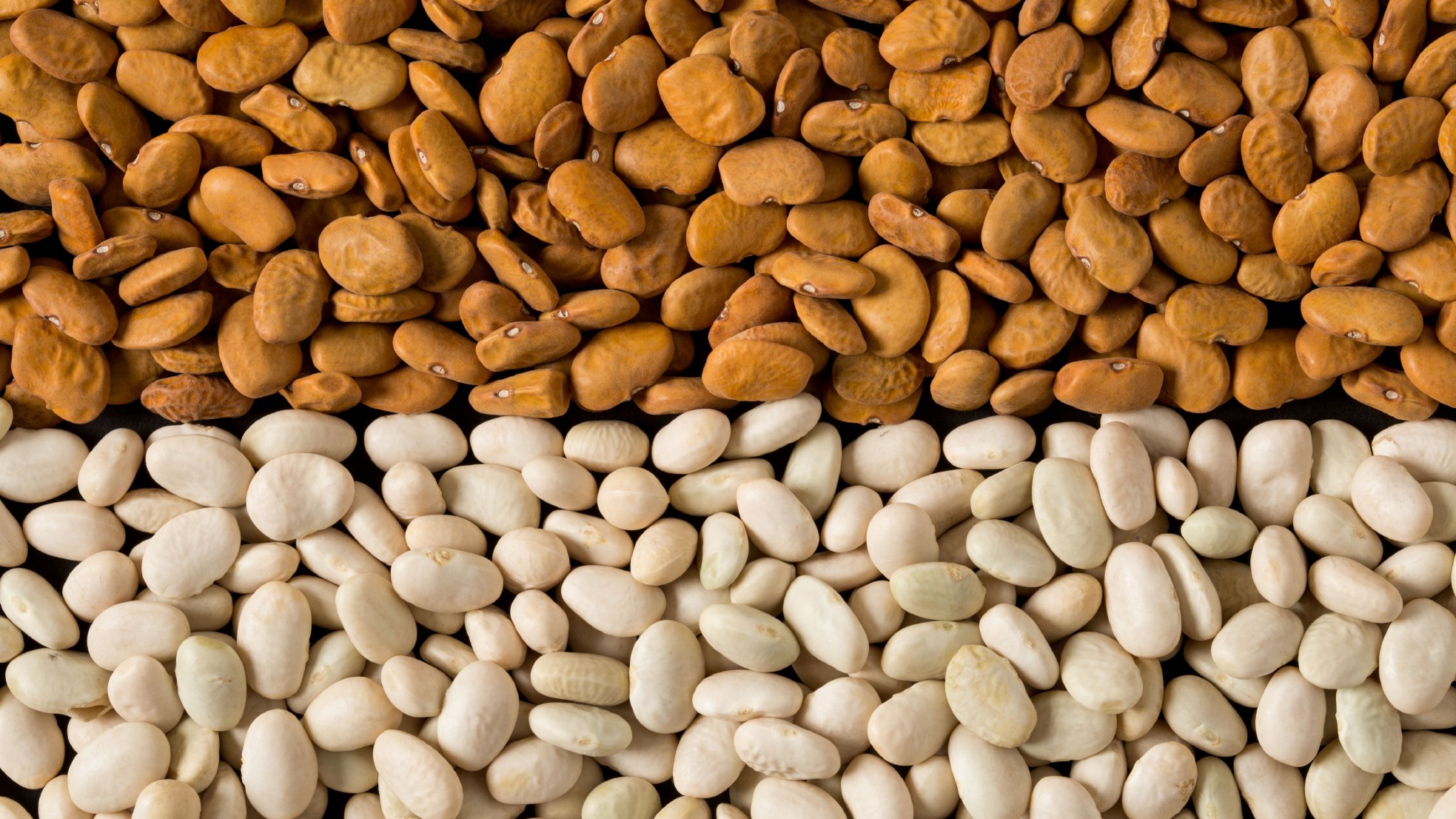 RECIPES
Inspired by Weingarten's story, Cook's Science Test Cook Sasha Marx developed two recipes to highlight the hearty and resilient tepary beans: a creamy hummus using white tepary beans, topped with a bright herb and olive salad; and a simple but earthy and flavorful Greek-inspired bean soup, which uses brown tepary beans. 
White Bean Hummus with Herb and Olive Salad